Harvest Mouse
Just recently I was lucky enough to have a Small Mammal photography day with a local well known Photographer Colin Varndell.
It was fantastic, got to photograph various creatures including this header a Harvest Mouse, Now I will not try to cheat at all, a lot of the pics were from captive animals, but apparently, "that is how they do it"
The Harvest Mice were the only kept Mouse out of all of them, the others released after we had taken some pics.
We did spend some time in hides taking shots of Birds and Grey Squirrels, but to be honest and absolutely no disrespect meant to the course, or Colin, but I prefer to snap the birds in the open.
Grey Squirrel
Grey Squirrel
It was after the Bird hide, that we got up close the Field Voles, I have seen them before caught one on Camera running on the beach at Preston.
Field Vole
But to see one really close, looking at me, almost pleading to be let go, was terrific.
Field Vole
They were caught in a flap trap, along with Bank Voles.
Bank Vole
I was able to get a shot of one of these later, but with flash, it's eyes overexposed and looked awful, so I will not put one of those pics up.
After this Colin brought out the main event, the Harvest Mice.
Harvest Mouse
Absolutely wonderful, I have never seen these before, especially like this, Colin has 4, the thing they want to do is climb, so they are in a large enclosure with quite high sides, and in the middle various plants are put in and anchored down for this purpose.
A Raspberry cane.
Harvest Mouse
And a Burdock
Harvest Mouse
Later we had another hide session, we had to sit and wait, branches were laid between 2 points and smeared with peanut butter, after a short while first we had like I said a Bank Vole, then we had a few Wood Mice come out, they didn't seem that bothered by the Flashguns going off, so we were able to get a few pics.
Wood Mouse
I get these in the garden, Elaine goes mad every time she glimpses one, I don't mind as long as they stay outside.
I have also been over to Brownsea again, and Yes I got to find the Red Squirrels, but the light wasn't perfect and they were busily feeding on the Beech Nuts.
Red Squirrel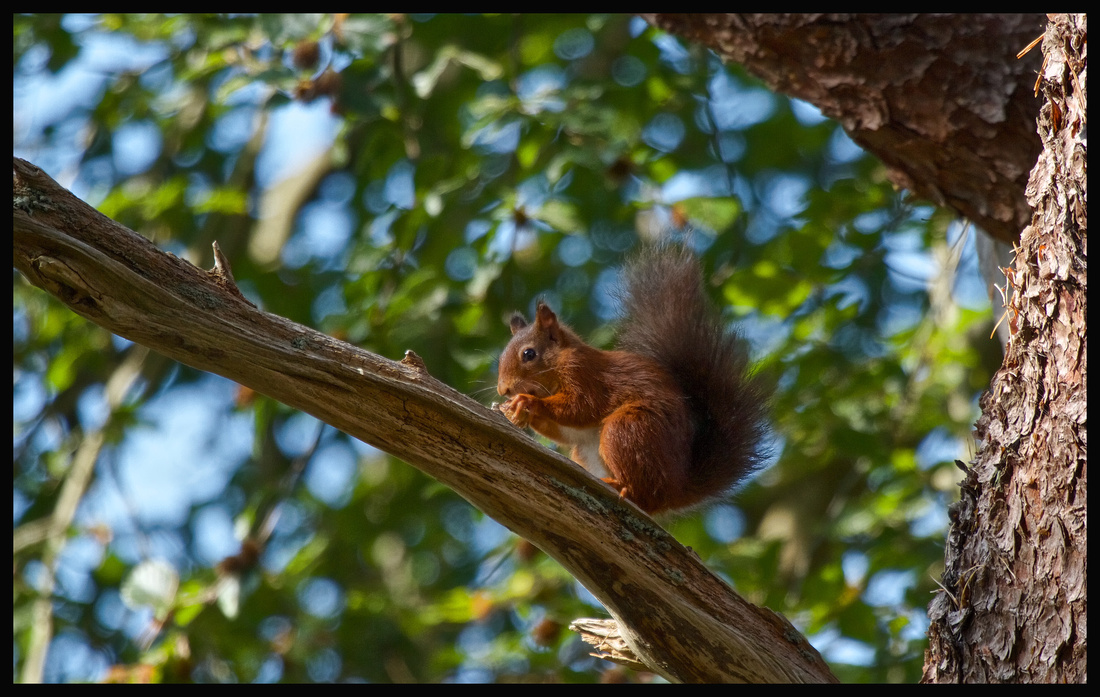 Red Squirrel
I have loads more to show, I will get my finger out, I have a whole array of Fungi pics some more Bird and Landscape stuff.
There are more photos from this section on my website take a look it's free
Happy Days :-)